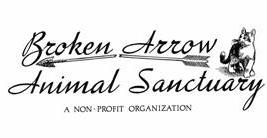 (This site is best viewed with Netscape. Other browsers may distort content)
Scroll down to see our menu options...

The mission of the Broken Arrow Animal Sanctuary is to bring an end to the needless destruction and abuse of unwanted animals
and to provide education, spay/neuter and adoption programs,
giving every animal an opportunity for a better life.


Visit us at Petco in Erie every Friday, Saturday and Sunday from Noon - 4pm.
Please
contact us
if you are looking for a particular type of pet! Or call us at 835-0195.
Please click
HERE
to view some of the wonderful cats and kittens in need of safe, loving, permanent homes.
Broken Arrow is a no-kill shelter - this means that we often help injured animals that can be treated and have a good quality of life. This also means that our veterinary bill is more than $5,000. Can you help? Even $5 will make a difference! It all adds up to help care for the animals in our care and those who will continue to come to us in need. If you would like to contribute to particular case, please view our
Special Needs
page.
Donations can be made directly to:
Erie Animal Hospital
For Broken Arrow
3024 W. 26th Street
Erie, PA 16506
814-838-7638

Cats/Kittens Available for Adoption
Dogs/Puppies Available for Adoption
About Broken Arrow
Sign Our Guestbook!
Spay/Neuter Information
Special Needs Animals
Declawing Information
How You Can Help Animals!
BAAS Newsletter
Contact Us
Our Supporters!
Other Animal Rescue Organizations / Resources
Home
We are happy to provide pet care / pet behavior information free of charge. Just
e-mail us
with your questions or concerns. We have resources for you!

Broken Arrow Animal Sanctuary
1903 W. 8th Street
Suite 233
Erie, PA 16505
814-835-0195
brokenarrowanimalsanctuary@yahoo.com
Broken Arrow is a 501(c)3 charitable organization. All donations are tax deductible.