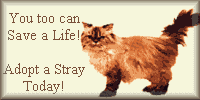 Donations are
always
needed - Food, toys, treats, cleaning supplies, garbage bags, and funds!
Broken Arrow is a 501(c)3 charitable organization. All donations are tax deductible.
Become a member and receive our newsletter! A one-year membership is just $25.
Click here
for our membership form.
Volunteer! Call 814-835-0195 to see how you can help!
Shop online and automatically generate funds for the animals!

Cats/Kittens Available for Adoption
Dogs/Puppies Available for Adoption
About Broken Arrow
Sign Our Guestbook!
Spay/Neuter Information
Special Needs Animals
Declawing Information
How You Can Help Animals!
BAAS Newsletter
Contact Us
Our Supporters!
Other Animal Rescue Organizations / Resources
Home